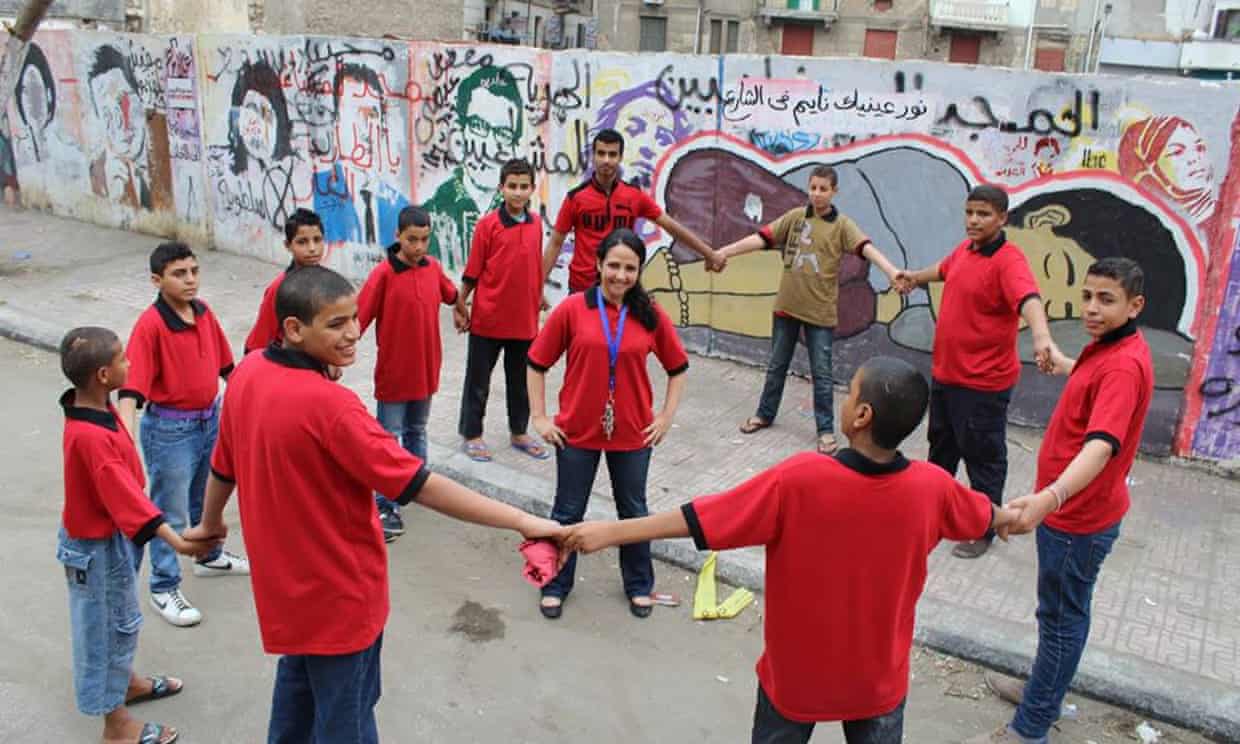 European-Mediterranian Human Rights Network.  Human Rights Behind Bars in Egypt
Aya Hegazy is an Egyptian-American activist who founded the organization Belady with the objective of helping out street children.  She was arrested in Cairo in May 2014 and charged with organizing a group with the purposes of human trafficking, holding children for sexual exploitation and using them to disturb the peace in protests against security forces. Despite vehemently denying the charges, she was arrested with her husband (who was running the association with her) and two other colleagues.
Aya Hijazi' request for conditional release was denied and none of the international observers were permitted into the chamber.
Besides Aya Hegazy and her husband, there are other 6 detainees in the case and they are: Sherif Talaat, Amira Farg, Ibrahim Abou El-Magd, Karim Mahmoud, Mohamed El-Siyad and Zeinab Ramadan.
Links to reports
Mother defends daughter accused of exploiting street children http://www.madamasr.com/en/2014/05/06/news/u/mother-defends-daughter-accused-of-exploiting-street-children/ Mada Masr May 6, 2014
Egyptian Chronicles  https://egyptianchronicles.blogspot.com.eg/2015/12/dont-forget-aya-hegazy-and-her-team-in.html  by Zeinobia  December 22, 2015
The Obama administration ignores an American imprisoned in Egypt  https://www.washingtonpost.com/opinions/global-opinions/the-obama-administration-ignores-an-american-imprisoned-in-egypt/2016/07/10/900f43a4-4474-11e6-8856-f26de2537a9d_story.html?utm_term=.aa45898df884  by Jackson Diehl  July 10 2016
State Department Should Speak Out For Aya Hijazi, US Human Rights Defender In Egypt Prison http://www.huffingtonpost.com/brian-dooley/state-department-should-s_b_12015326.html  Sep 14, 2016 Brian Dooley Director, Human Rights First's Human Rights Defenders Program
Egypt Denounces US Statement Calling for Aya Hegazy's Release http://egyptianstreets.com/2016/09/19/egypt-denounces-us-statement-calling-for-aya-hegazys-release/  by Aswat Masriya September 19, 2016
Egypt's foreign ministry responded to the White House statement saying that Hegazy is in custody "for violating the Egyptian law and exploiting street children".
"Aya Hijazi was arrested more than two years ago, when a restless Egypt sought propaganda to show it was standing up to the 'big, bad west', her lawyer says" https://www.theguardian.com/world/2016/oct/17/aya-hijazi-american-egypt-detention by Alan Yuhas 17 October 2016 

Egypt: American Citizen Aya Hijazi Imprisoned Without Trial for 900 Days  https://www.democracynow.org/2016/10/20/headlines/egypt_american_citizen_aya_hijazi_imprisoned_without_trial_for_900_days Oct 20, 2016
The opinions of Community Organizer, Human Rights and Civil Rghts Activist Hussam Ayloush  CAIR-LA Exec Director,  expressed on his Twitter feed prompted me to look into the connection of Aya Hijazi and human trafficking.  Aya and her organization may have been set up as a patsy to obfuscate connections of operatives within the Egypt's police and governing entities to child trafficking, or she is directly involved in child-pornography-and-human-trafficking.
egypt_-miss-morocco-accused-in-a-child-pornography-and-human-trafficking-case-_-morocco-world-news By Aziz Allilou – August 25, 2014
Rabat – A Moroccan beauty queen is believed to be involved in one of the biggest child pornography and human trafficking schemes in Egypt according to Egyptian media outlets.
The unidentified Moroccan beauty queen has reportedly been accused of funding a fake association that exploits homeless children in the production of child pornography, as well as using them as human shields in several political demonstrations and conflicts with the police.
According to Egypt's Yaoum7, the fake association that goes by the name "Biladi" or my country was co-founded by an American woman and her husband. The American couple are said to have stripped over 20 children and videotaped them naked in a minor pornographic production.
On Sunday, the Egyptian police detained the associations' main financier for investigation. "She admitted to having received funds from a Moroccan beauty queen," Yaoum7 reported.
The Associations' financier said that she had received moral and financial support from the Moroccan beauty queen, without revealing her name or the details.
The Association's co-founders, Aya Hijazi, 27, and her husband Mohamed Hassanine, 26, admitted to detaining over 20 homeless children in their Cairo-based house.
The US couple stated during the investigations that they had forced the children to have sex with each other in order to record them in a pornographic film production.
Biography http://scar.gmu.edu/people/aya-hijazi

After completing her degree at George Mason University in 2009, Aya went to Egypt where she has dual citizenship. She and her husband founded an organization to provide a safe space and education for the street children in Cairo.
Online Petitions for her case:  Change.org
Facebook 13,392 people like this and 13,342 people follow this
An alternate Aya Hijazi with connection to Humanitarian Organizations
Field Coordinator at INTERSOS – Humanitarian Organization December 2015 – March 2016, Regional Officer  Taghyeer Organization, Volunteer Save the Children International  January 2011 – June 2013
Education Jordan University of Science and Technology  Bachelor's degree, Nuclear Engineering,
related
Middle East the human trafficking capital of the world  Published April 10th, 2013 – via SyndiGate.info
The study, which was named "Tricked and Trapped: Human Trafficking in the Middle East", was presented by the ILO on Tuesday in Amman at the first-ever tripartite regional conference on human trafficking. The report indicated that some 600,000 migrant workers are subject to forced labour and exploitation.
55 Little Known Facts about Human Trafficking By Karin Lehnardt Published September 20, 2016
References
1 Aronowitz, Alexis A. Human Trafficking, Human Misery: The Global Trade in Human Beings. Santa Barbara, CA: Greenwood Publishing Group, 2009.
2 Destefano, Anthony M. The War on Human Trafficking. Piscataway, NJ: Rutgers University Press, 2007.
3 Finney, Richard. "Women Tricked, Trafficked into China." Radio Free Asia. March 4, 2011. Accessed: December 26, 2010.
4 "Human Trafficking: The Facts." UN Global Compact. Accessed: December 26, 2010.
5 "International Human Trafficking." FBI. November 13, 2009. Accessed: December 23, 2010.
6 Keehn Anne. "Lady Gaga's 'Bad Romance' Video about… Sex Slavery?" Free the Slaves. September 13, 2010. Accessed: December 26, 2010.
7 "Kosovo U.N. Troops 'Fuel Sex Trade.'" BBC News. May 6, 2004. Accessed: December 20, 2010.
8 Lin, Sara. "Largest Human Trafficking Case in U.S. History Filed in Honolulu." Civil Beat. September 2, 2010. Accessed: December 26, 2010.
9 Malarek, Victor. The Natashas: Inside the New Global Sex Trade. New York, NY: Arcadia Publishers, 2003.
10 "Millions Suffer in Sex Slavery." NewsMax. April 24, 2001. Accessed: December 26, 2010.
11 Shelley, Louise. Human Trafficking: A Global Perspective. New York, NY: Cambridge University Press, 2010.
12 Skinner, E. Benjamin. A Crime So Monstrous: Face-to-Face with Modern-Day Slavery. New York, NY: Free Press, 2008.
13 "Slaves Auctioned by Traffickers." BBC News. June 4, 2006. Accessed: December 28, 2010.
14 "Taliban Buying Children for Suicide Bombers." The Washington Times. July 2, 2009. Accessed: December 29, 2010.
15 "Teen Girls Stories of Sex Trafficking in the U.S." ABC News/Primetime. February 9, 2006. Accessed: December 26, 2010.
 shrt lnk: wp.me/p5eLCS-mv